Cleanflow Magnetic Separators
Cleanflow magnetic separators filter ferromagnetic (Fe) particles – such as iron and steel – out of powders and granulates in free-fall lines. They are used for applications in the plastics, food, pharmaceutical and ceramic industries, among others. Very fine iron and stainless steel particles cannot be recognized by a metal detector, but our strongest Cleanflow magnets can nevertheless extract them! Suitable for industry: Ceramic Chemical Fibre / textile / paper Food Minerals (fine) Pharma Plastic / rubber Seeds…
Application:
Ferromagnetic metal contaminants – such as pieces of iron, steel and stainless steel – can enter your process in two ways: via the incoming product, or as a result of wear in the production process.
Cleanflow magnetic separators filter metal contaminants as small as 30 microns from powders and granulates in free-fall pipes. Applications are found in the plastics, food products, pharmaceutical and ceramic industries, among others.
'Can stainless steel contaminants be filtered magnetically?' Yes, they can! The material structure of stainless steel wear particles changes following plastic deformation. This makes them slightly ferromagnetic, making it possible to use of powerful magnets to filter them out of your product stream.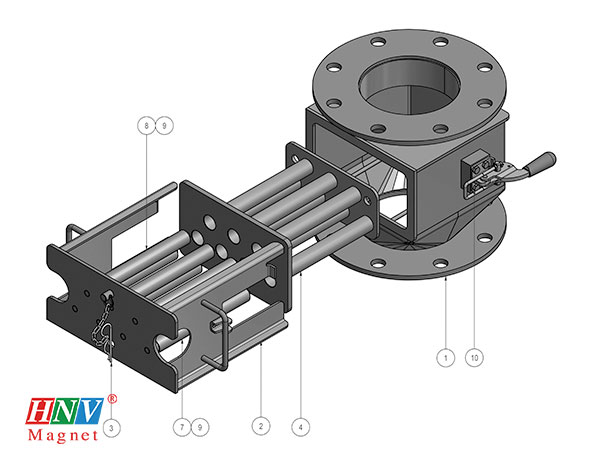 HOANG NHAT VU MANUFACTURING AND TRADING CO., LTD.
Address

: No 9, 10 Street, Town 4, Hiep Binh Chanh Ward, Thu Duc District, HCMC

Tax Code

: 0303753813

Hotline

: 0907601616

Email

: sale@namcham.com

Fax: (+84) 028 6295 55 99
OPEN HOURS
Mon – Fri 08:00 ~ 12:00 & 13:00 ~ 17:00
Sat: 08:00 ~ 12:00